Kontext 3.0.0.0 alpha 4 is now released. This is a major release with complete code-rewritten. The whole project is now fully managed in VSTS for continuous integration and deployment. It will be updated in an Agile manner. Every code commit will trigger VSTS build plan followed by deployment into Azure in less than 10 mins.
This page summarizes the main changes in this release.
Framework/platform changes
Framework: .NET Core 2.1
Host Environment: Azure App Service
Database: SQL Azure
Development tool: Visual Studio 2017 (15.5.6)
DevOps: VSTS
Continuous Build and Deployment: VSTS Agents (VS2017)
Existing features
Existing features in previous blog application have all been re-written using ASP.NET Core 2.1. The whole architecture is coded according to .NET Core application style to make it highly extensible and scalable.
New features
My comments
Registered users can now view all the comments that are added by him/her.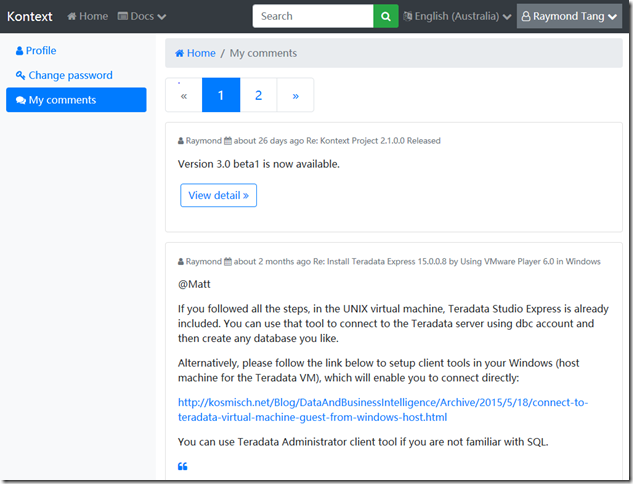 Captcha
For login and registration, captcha input is required to prevent from robots.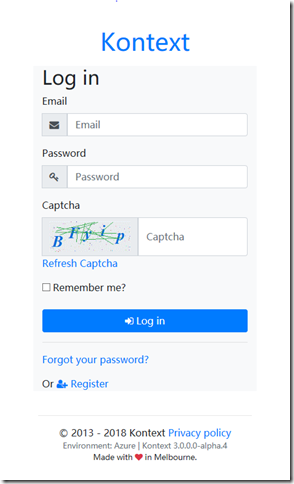 New content display style – Lite-Log
Refer to Introducing a new blog post type – LiteLog for details.
New URLs
All the previous URLs are still working while a new sets of URLs are introduced.
| | |
| --- | --- |
| Old URL | New URL |
| /Blog | /docs |
| /Blog/BlogName | /docs/BlogName |
| /Blog/BlogName/CategoryName | /docs/BlogName/c/CategoryName |
| /Blog/BlogName/Archive/year/month/day/PostName | /docs/BlogName/p/PostName |
Localization and globalization
All the forms' validation messages are now also support localization.
Tags in post list
Each post's tags are now also displaying in the list.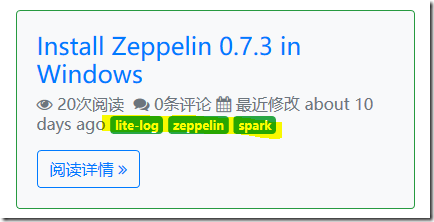 Comments only allowed for registered users
Comments are now only allowed for registered users. Users are only allowed to login if the email is validated.

Page navigations and toolbar
Page navigation and toolbar are now added for easy navigating.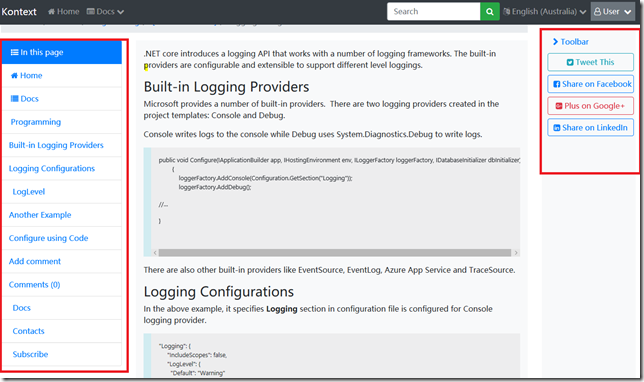 New admin home
The administration functions are now rewritten with new functions added including emails management, cache management, user search and application permission management.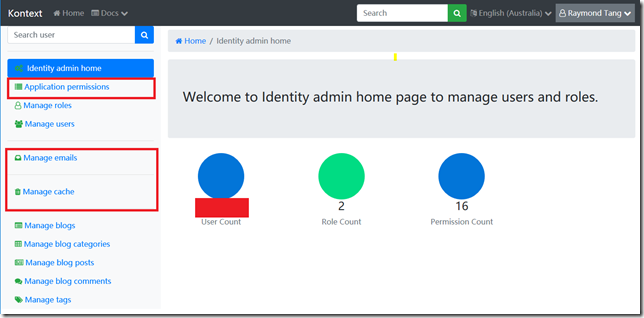 Summary
The whole application is being improved frequently with updates almost each day. Please let me know if you encounter any problems or if you have any suggestions.