Check Role Access on Tables/Views in Teradata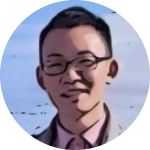 Raymond
visibility
3,345
event 2021-01-19
access_time 3 years ago
language English
Check role's access on Teradata table/view
The following code snippet checks all roles with access on certain Teradata table or view.
select * from dbc.allrolerights
where databasename='TestDb'
and tablename = 'test_table';

Sample output: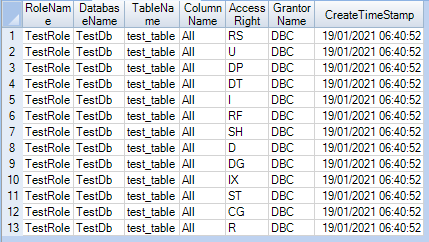 Check role's access on all objects
To check certain role's access on database object in Teradata, use the following query:
select * from dbc.allrolerights
where rolename='TestRole';
Sample output: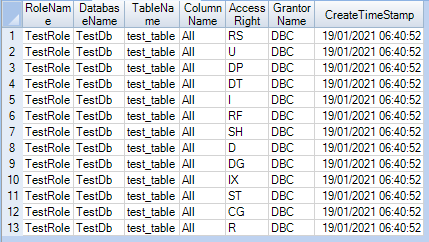 Reference
Useful DBC (Data Base Computer) System Views in Teradata
Access rights code
AE -

Alter External Procedure
AF - Alter Function
AP - Alter Procedure
AS - Abort Session
CA - Create Authorization
CD - Create Database
CE - Create External Procedure
CF - Create Function
CG - Create Trigger
CM - Create Macro
CO - Create Profile
CP - Checkpoint
CR - Create Role
CT - Create Table
CU - Create User
CV - Create View
D - Delete
DA - Drop Authorization
DD - Drop Database
DF - Drop Function
DG - Drop Trigger
DM - Drop Macro
DO - Drop Profile
DP - Dump
DR - Drop Role
DT - Drop Table
DU - Drop User
DV - Drop View
E - Execute
EF - Execute Function
GC - Create GLOP SET
GD - Drop GLOP SET
GM - GLOP Member
I - Insert
IX - Indexes
MR - Monitor Resource
MS - Monitor Session
NT - Non Temporal
OA - Override Archive Constraint
OD - Override Delete Constraint
OI - Override Insert Constraint
OP - Create Owner Procedure
OR - Override Restore Constraint
OS - Override Select Constraint
OU - Override Update Constraint
PC - Create Procedure
PD - Drop Procedure
PE - Execute Procedure
R - Retrieve or Select
RF - References
RS - Restore
SH - Show
SA - Constraint Assignment
SD - Constraint Definition
SS - Set Session Rate
SR - Set Resource Rate
ST - Statistics
TH - Connect Through
U - Update
UM - UDT Method
UT - UDT Type
UU - UDT Usage
info Last modified by Raymond 3 years ago
copyright This page is subject to Site terms.
No comments yet.
Log in with external accounts